The Rinnai Guys "2011-12 Rinnai ASP of the Year"
Rinnai America Awards Barnegat Light Plumbing the very Prestigious ASP of the Year Award for Outstanding Customer Service and Product Expertise.
The Rinnai Guys are Here!
For Tank-Less Water Heaters we are known as "TheRinnaiGuys.Com". We chose this name for a very simple reason, Rinnai is the absolute best Tank-Less Water Heater made. We can sell any brand we wish but will only install a Rinnai. We do not like call backs, there is no money in them, and basically no reason for them whatsoever. If you are using a Hi-Quality product like Rinnai, and know how to correctly install and set them up, you should never have a call back.
We Are Rinnai's Only Elite Dealer in all of NJ with a 100% Customer Satisfactory Rating!
We are a Rinnai Authorized Service Provider. or ASP. We have the extensive training and reputation necessary to be classified as an ASP, so you know your dealing with the experts!
2011 and 2012 ASP of the Year!
We have been named the 2011 and 2012 ASP of the Year by Rinnai America! This is an incredible award and is given to the Top ASP (Factory Authorized Service Provider) for Overall Product Knowledge and Outstanding Customer Service. We are very proud of our Rinnai ASP Teams. They put in an incredible amount of time and effort to make sure they know everything there is to know about Rinnai Tank-Less Water Heaters to ensure our customers are getting the absolute best service possible, anytime, anywhere!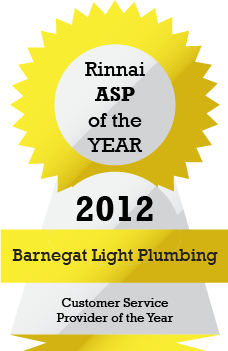 ---
Endless Hot Water
Never take another cold shower again! Rinnai tankless water heaters heat water on demand, so you're never limited to a fixed pre-heated supply as with a tank. You'll enjoy hot water when you want it, for as long as you need it. Take a shower, wash dishes and do laundry all at the same time!
Peace of Mind
With Rinnai tankless water heaters, there-s no tank to leak or break, thus reducing the risk of flooding. Plus, Rinnai offers a line of controllers that make it easy to set water temperatures precisely for multiple locations in your home to ensure comfort and prevent scalding accidents.
Was your Rinnai Properly Installed?
We have been Installing Rinnai Tank-Less Water Heaters since 2008 and have never once had to repair a Rinnai for an issue with the Rinnai itself. Every Single ASP Service Call (Factory Authorized Service Provider) we have been sent to for a Rinnai showing an error code was due to an incorrect installation. 80% Percent of the time the problem is due to the Installer not calculating the overall BTU's of gas correctly. Usually the difference of BTU's is anywhere from 112,000 BTU to 159,000 BTU and as stated above, 80% percent of the time, the gas line will need to be increased to properly run the New Rinnai.
The other 20% percent of the time we find that the vent is installed incorrectly. Most of the time it's due to the installer not connecting the Condensate line, which must be done in any cold weather climate like we have here in New Jersey. Without the condensate line the Rinnai will condensate and all the water will go right into the unit and the Gas Valve will need to be replaced. The gas valve replacement is a lot more involved than a regular Tank Water Heater and can be very expensive. The condensate line can be installed during the initial Rinnai installation for about $20.00 dollars. We are always amazed when we see a 2 year old Rinnai wiped out due to an installer saving $20.00 measly dollars on a short piece of vinyl tubing.
If your Rinnai was installed incorrectly you will not be covered under the Warranty.
If you are having a new Rinnai installed or having issues with an existing model and you are out of our territory, we will be more than happy to help you out over the phone with any questions you may have.